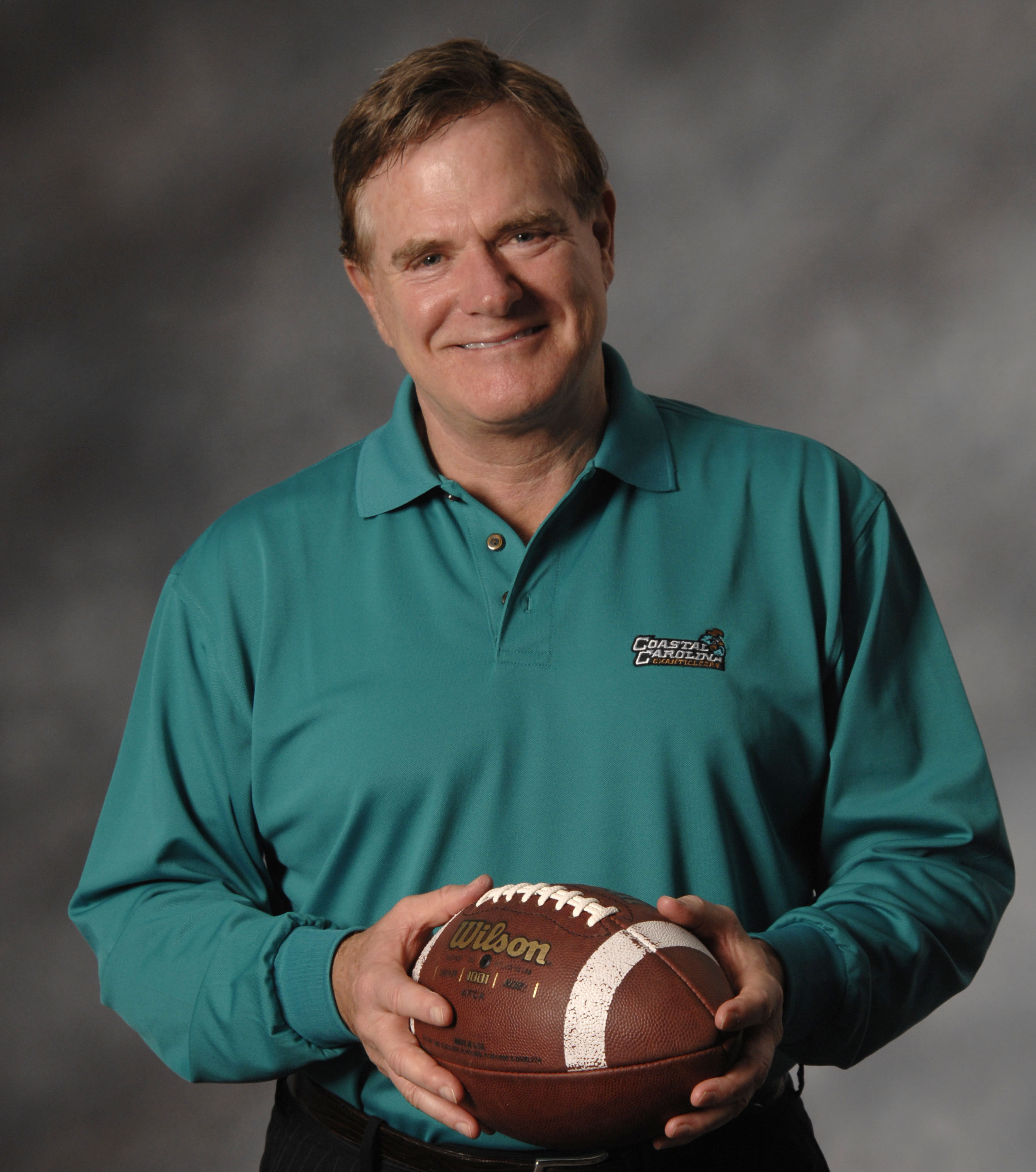 Joe Moglia is the Head Football Coach & Chair of Athletics at Coastal Carolina University, and Chairman of the Board at TD Ameritrade. Most recently, he was inducted into and received the Vince Lombardi Hall of Fame Award for his career.
In his last 10 seasons of coaching college football, Joe has been part of 8 championship teams. In his first five seasons at Coastal, he led his team to the National Playoffs *five times and *four conference championships while being named Conference Coach of the Year twice, the AFCA Regional Coach of the Year, and winner of the Eddie Robinson Award for National Coach of the Year in 2015.
This season will be Joe's 25th as a Football Coach, but it's not a traditional 25 years. He began his career as a coach for 16 years, moved to the business world for over 20, and back to coaching in 2009.
In his first stint as a coach he won two Ivy League Championships as the Defensive Coordinator at Dartmouth, led units that set Defense and Kicking records at Lafayette, and turned two high school programs around. Before going to Coastal, he was Executive Advisor for Football at Nebraska where he was part of two Holiday Bowls and two Big 12 North Championships. In 2011 he was Head Coach of the Omaha Nighthawks in the United Football League. In the business world, in 1984 Joe entered the MBA Training Program at Merrill Lynch, where there were 25 MBAs and one Football Coach. By 1988, he was Merrill Lynch's Number One Producer in the World. By the time he left, he was a member of both the Institutional and Private Client relative to the Executive Committees, and his final responsibilities were all Investment Products, the Insurance Company, the 401(k) Business, and the Middle Market Business.
He became the CEO of TD Ameritrade in 2001. Over the next seven years, shareholders enjoyed a 500% return as the firm grew its market cap from $700 million to $10 billion, and client assets reached $280 billion. In 2008, after the firm had its 6th record year in a row, Joe stepped down as CEO and became Chairman of the Board.
Moglia has received the Ellis Island Medal of Honor and the Sharp Trophy for Leadership. He has been honored by the National Italian American Foundation, the Columbus Citizens Foundation, the South Carolina Football Hall of Fame, and the American Institute for Stuttering. He has also been inducted into six Halls of Fame, is the recipient of three Honorary Doctorates and is also the only author in the world to have written books published on both investing and football. *2016 Football Transition Committee